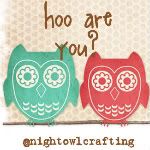 1. How tall are you? How tall do you WISH you were?
I'm pretty short (5.1'). I would be happy at 5.4'.... Especailly since my husband is 6' (he doesn't seem to mind though)
2. Do you have a birthmark? Where?
3. What is your biggest money waster?
I guess money wasters are anything that I can live without... So, crafts and decorations for my house.
4. What song are you tired of?


Ooooh, I don't know. It's hard for me to get tired of a song. I'm the type that put songs on repeat. :)
5. What stresses you out most?
Being out with my girls and losing site of them for a second OR/AND seeing blood.