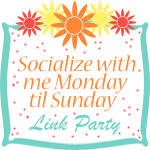 Hello and happy Monday... Right?
Last week just FLEW by, BUT what a great party!!! Love all your projects and ideas! SO crafty!
Here's a small recap of last week. Click
here
to see ALL the projects from last week OR just click the "YOU" button at the menu bar.
Click the picture to learn more about the project!
Felt donuts from redtedart's Blog
Zebra Chair Railing and Frame from Swainston Vinyl and Design
Sunburst Mirror Tutorial from If life was like a cupcake
Towel Mat from A Girl and a glue gun
Great JOB again you fellow crafty friends! :)
Now on to the NEW WEEK!!!
*For those that are new to Socialize with Me Monday til Sunday:
Socialize with me Monday til Sunday was created for those that do crafts (and then some) throughout the week and CAN'T wait for the next link party to show off :)
Yes, this link party is ONE week long! It will start every Monday and go til Sunday. Since it is a week long, a multiple of 10 max projects may be shared per blog per week.
The beginning of every new socialize with me party, I will recap a few of my favorites from the previous week.
Rules:
-Add the "Socialize with me Mon. til Sun. Craft and THEN Some Link Party" button to your post so others can join the fun (button(s) are on the right hand side bar)
-To save us from having to search for your project, please link to your post and not your blog.
-We love to see something new; No repeats from the same blog please.
-Leave only positive and uplifting comments to participating links :)
Happy Socializing!